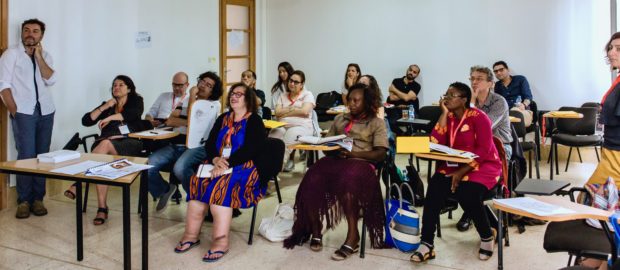 (English below)
L'appel à candidatures de la 3ème édition de l'atelier Produire au sud Agadir qui se déroulera du 18 au 22 juin 2019 pendant la 11ème édition du FIDADOC est ouverte à des binômes auteur/producteur porteurs d'un projet de long-métrage documentaire issus des 7 pays suivants : Maroc, Algérie, Tunisie, Liban, Palestine, Égypte et Jordanie.
> POUR INSCRIRE VOS PROJETS SUR LE SITE DU FESTIVAL DES 3 CONTINENTS, CLIQUEZ ICI.
> DEADLINE : 29 AVRIL 2019.
Pour la troisième année, le FIDADOC s'associe au Festival des 3 continents de Nantes pour organiser un Atelier « Produire au Sud » visant à :
– Familiariser des binômes d'auteurs/producteurs avec les techniques et les outils de la coproduction cinématographique internationale à travers une logique d'accompagnement individuel de projets en développement ;
– Les aider à maîtriser les enjeux de la coproduction et du marché international ;
– Poser les bases durables d'une coopération cinématographique entre les professionnels européens et les professionnels des pays du Sud.
L'encadrement de cet atelier sera assuré par des professionnels internationaux – producteurs, scénaristes, réalisateurs, distributeurs, vendeurs internationaux, diffuseurs, juristes -, choisi parmi les experts et consultants familiers de Produire au Sud et du FIDADOC.
La spécificité de l'atelier Produire au sud d'Agadir est d'être destiné exclusivement à des porteurs d'un projet de long-métrage documentaire
Grâce au soutien de Arab Fund for Arts and Culture (AFAC), du Centre National du Cinéma et de l'Image de Tunisie (CNCI) et du Centre Cinématographique Marocain (CCM), les bénéficiaires de la 2nde édition ont pu bénéficier d'un accompagnement régulier et personnalisé de la part de nos consultants en scénario et en production, par des rendez-vous Skype et à l'occasion d'une seconde session de l'atelier organisée à Tunis en marge des Journées Cinématographiques de Carthage.
Pour sa troisième édition en 2019, Produire au sud Agadir affirme son identité multiple – africaine, arabe et méditerranéenne – en contribuant à la dynamique régionale enclenchée par la création de l'Arab Film Institutes Commission (AFIC) qui réunit les centres du cinéma (ou structures remplissant des missions équivalentes) de 7 pays : Maroc, Algérie, Tunisie, Liban, Palestine, Égypte et Jordanie.
Un outil de coopération indispensable au développement à l'échelle régionale de véritables coproductions Sud/Sud, qui fait écho à notre ambition d'imposer le FIDADOC comme une plateforme d'échanges et de coproductions au carrefour de l'Afrique, du monde Arabe et de l'espace Euro-Méditerranéen.
*****
The call for applications of the 3rd edition of Produire au Sud Agadir workshop which will take place from June 18 to 22, 2019 during the 11th edition of FIDADOC is open to author/producer couples bearers of a documentary feature project from 7 countries: Morocco, Algeria, Tunisia, Lebanon, Palestine, Egypt and Jordan.
> TO SUBMIT YOUR PROJECTS ON THE WEBSITE OF THE 3 CONTINENTS FILM FESTIVAL, CLICK HERE.
> DEADLINE: APRIL 29, 2019.
For the third year, FIDADOC and 3 continents Film Festival of Nantes organize a workshop "Produire au sud Agadir" aiming to:
– Familiarize 6 duos author/producer with the techniques and tools of the international co-production through a logic of individual accompaniment of film projects in development ;
– Help them to master the issues of co-production and the international market ;
– Lay the foundations for sustainable cinematographic co-operation between European professionals and professionals from Africa and/ou Arab countries.
Training and Mentoring are provided by international professionals – producers, screenwriters, directors, distributors, sales agents, broadcasters, lawyers – including experts and consultants familiar with Produire au Sud and FIDADOC.
Thanks to the support of Arab Fund for Arts and Culture (AFAC), Cinema Centers of Tunisia (CNCI) and Morocco (CCM), the participants of our second edition benefited of a regular and personalized support from our script and production consultants, through Skype meetings and a second session of the workshop organized in Tunis during Carthage Cinema Days.
For its third edition in 2019, Produire au Sud Agadir wishes to assert its multiple identity – African, Arab and Mediterranean – by contributing to a regional dynamic symbolized by the creation of the Arab Film Institutes Commission (AFIC) which brings together the cinema centers (or structures fulfilling equivalent missions) of 7 countries: Morocco, Algeria, Tunisia, Lebanon, Palestine, Egypt and Jordan.
A cooperation tool essential for the development of true South/South co-productions at the regional level, which is in line with FIDADOC's ambition to establish itself as a platform for exchanges and co-productions at the crossroads of Africa, Arab world and Euro-Mediterranean area.