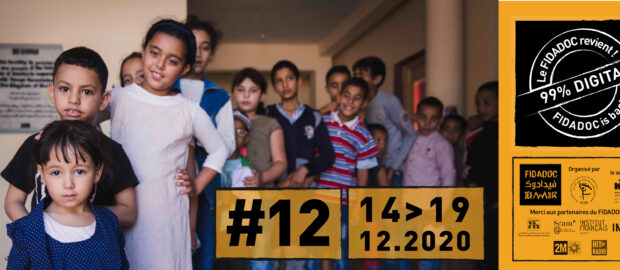 (English below)
Le FIDADOC Agadir revient avec une édition digitale du 14 au 19 décembre 2020.
Le cinéma VRAIMENT partout. Le cinéma VRAIMENT pour tous.
Organisé depuis 2008 par l'Association de Culture et d'Éducation par l'Audiovisuel, le Festival International de film Documentaire d'Agadir est la première manifestation cinématographique marocaine exclusivement dédiée au documentaire de création.
Au fil des années, le FIDADOC s'est imposé comme un rendez-vous culturel et professionnel incontournable et a largement contribué au renouveau du film documentaire dans notre pays à travers ses programmes de formations et d'accompagnement artistique qui ont révélé de nombreux cinéastes marocains et issus d'autres pays africains.
Comme toutes les autres manifestations culturelles marocaines, la 12ème édition du FIDADOC n'a pas pu se dérouler à Agadir dans son format traditionnel et au calendrier prévu (9 au 13 juin 2020).
Désireux d'assurer la continuité et la visibilité du Festival auprès des passionnés de documentaire et des partenaires qui soutiennent son action avec fidélité, l'équipe du FIDADOC a conçu une édition digitale qui se déroulera du 14 au 19 décembre 2020.
Une édition 2020 plus que jamais fidèle à la devise du FIDADOC – « L'élitisme pour tous » -, qui offrira une programmation de qualité et un accès gratuit sur tout le territoire national, avec pour ambition d'élargir l'audience des films sélectionnés auprès des jeunes publics et des populations les plus éloignées de toute offre culturelle, grâce aux outils digitaux.
Une édition 2020 fidèle également à la vocation panafricaine du FIDADOC, en élargissant son public potentiel aux cinéphiles de tout le continent.
Rendez-vous le 1er décembre 2020 pour l'annonce de la programmation de cette 12ème édition du FIDADOC !
L'ACEA remercie chaleureusement les partenaires du FIDADOC 2020 : le Centre Cinématographique Marocain (CCM), l'Institut français du Maroc (IFM), la Société Civile des Auteurs Multimédias (SCAM, France), International Media Service (IMS, Danemark), les groupes de média 2M et Hit Radio.
Agadir le 19 novembre 2020.
*****
FIDADOC Agadir returns with a digital edition from December 14 to 19, 2020.
The cinema REALLY everywhere. Cinema REALLY for everyone.
Organized since 2008 by the Association for Culture and Education through Audiovisual, the Agadir International Documentary Film Festival is the first Moroccan film event exclusively dedicated to creative documentaries.
Over the years, FIDADOC has established itself as an essential cultural and professional meeting and has largely contributed to the renewal of documentary film in our country through its training and artistic support programs which have revealed many Moroccan filmmakers and from other African countries.
Like all other Moroccan cultural events, the 12th edition of FIDADOC was cancelled in its traditional format and schedule (Agadir, June 9 to 13, 2020).
Willing to ensure the continuity and visibility of the Festival among documentary film goers and partners who support its action with loyalty, the FIDADOC team has designed a digital edition that will take place from December 14 to 19, 2020.
A 2020 edition more than ever faithful to the motto of FIDADOC – "Elitism for all" -, which will offer quality program and free access throughout the national territory, with the ambition of enlarging the audience of the selected films among young audiences and populations far from any cultural offer, by using digital tools.
A 2020 edition also faithful to the pan-African vocation of FIDADOC, by broadening its potential audience to documentary lovers throughout the continent.
See you on December 1, 2020 for the announcement of the program for this 12th edition of FIDADOC!
ACEA warmly thanks the partners of FIDADOC 2020: Moroccan Cinema Center (CCM), French Institute of Morocco (IFM), Civil Society of Multimedia Authors (SCAM, France), International Media Service (IMS, Denmark), the media groups 2M and Hit Radio.
Agadir, November 19, 2020.