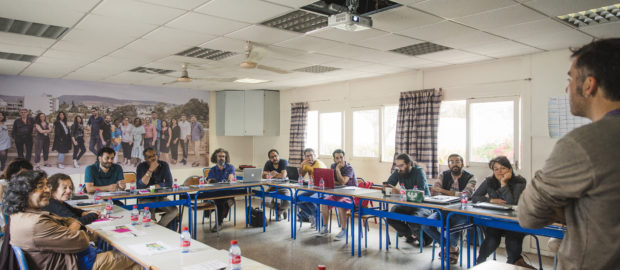 (English below)
Pour la quatrième année, le Festival International de film Documentaire d'Agadir (FIDADOC, Maroc) s'associe au Festival des 3 Continents (Nantes, France) afin d'organiser un Atelier « Produire au Sud Agadir » dont l'objectif est de familiariser avec les techniques et les outils de la coproduction cinématographique internationale, des binômes auteur/producteur africains et/ou arabes, à travers une logique d'accompagnement individuel de leurs projets de long-métrage documentaire en développement, de les aider à maîtriser les enjeux de la coproduction et du marché international et ainsi de poser les bases durables d'une coopération cinématographique entre les professionnels européens et les professionnels des pays du Sud.
Cette 4ème édition de Produire au Sud Agadir est destinée à 5 binômes auteur/producteur porteurs d'un long-métrage documentaire en phase de développement.
Afin de s'adapter aux conditions sanitaires internationales liées à l'épidémie de CoronaVirus, cette édition de l'atelier se tiendra, en ligne, du 14 au 18 juin 2020.
5 jours de formation intensive, dont le programme comprend sessions collectives et rendez-vous individuels :
Une introduction à la coproduction internationale : recherche de fonds, contrats, plateformes de coproduction, stratégie de vente et festivals internationaux ;
Consultations individuelles en scénario, production et distribution internationale ;
Une formation pitch, conclue par une présentation publique des projets.
L'encadrement est assuré par des professionnels internationaux expérimentés – producteurs, scénaristes, réalisateurs, distributeurs et vendeurs internationaux -, choisis parmi les experts et consultants familiers de Produire au Sud et auprès des partenaires institutionnels et professionnels du FIDADOC.
Suivi et mise en réseau
Étant donné la situation sanitaire actuelle qui nous empêchera d'accueillir à Agadir les participants et les encadrants de l'atelier mais aussi les invités professionnels du Festival, nous veillerons à contribuer à la visibilité des projets sélectionnés et à la mise en réseau de leurs auteurs, auprès de tous nos partenaires, collèges et amis au sein de la communauté documentaire internationale.
Grâce au soutien de AFAC, dans le cadre du North Africa Cultural Program (NACP), nous comptons également assurer un suivi régulier et individualisé de certains bénéficiaires à travers des consultations individuelles avec notre panel de mentors et d'experts.
Calendrier et candidatures pour l'atelier 2020
L'appel à candidatures de la 4ème édition de Produire au Sud Agadir est ouvert en priorité aux porteurs de projets issus :
de pays d'Afrique du Nord au sens large : 

Maroc, Algérie, Tunisie, Libye, Égypte

;
de pays d'Afrique de l'Ouest : Bénin, Burkina Faso, Cap-Vert, Côte d'Ivoire, Gambie, Ghana, Guinée, Guinée-Bissau, Liberia, Mali, Mauritanie, Niger, Nigeria, Sénégal, Sierra Leone, et Togo ;
en nous réservant le droit d'étudier des candidatures issues d'Afrique Centrale et du Proche-Orient relayées par nos partenaires professionnels dans ces régions.
Ouverture de l'appel à candidatures : 11 mars 2020
Clôture de l'appel à candidatures : 18 mai 2020
Annonce de la sélection : 21 mai 2020
Les inscriptions se déroulent exclusivement en ligne sur le site du Festival des 3 Continents.

Déposez votre candidature ici : > FORMULAIRE D'INSCRIPTION
Informations complètes sur le site du Festival des 3 Continents  :
https://www.3continents.com/fr/produire-au-sud/pas-a-letranger/agadir-2020/
Contact pour toutes vos questions : guillaume.mainguet@3continents.com
***
CALL FOR ENTRIES: 4th edition of Agadir Produire au sud workshop
For the fourth year, the Agadir International Documentary Film Festival of (FIDADOC, Morocco) is partnering with the 3 Continents Film Festival (Nantes, France) in order to organize an Agadir Produire au sud workshop whose main goals are:
to familiarize author / producer pairs from African and / or Arab countries, with the techniques and tools of international film co-production, through a logic of individual support for their documentary feature projects in development ;
to help them master the challenges of co-production and the international market ;
to lay the sustainable foundations for film cooperation between European professionals and professionals from the countries of the South.
This 4th edition of Agadir Produire au Sud is therefore intended for 5 author / producer pairs of documentary feature films in the development stage.
In order to adapt to international health conditions caused by the CoronaVirus epidemic, this edition of the workshop will be held online from June 14 to 18, 2020.
5 days of intensive training, whose schedule includes group sessions and individual meetings:
An introduction to international co-production: fundraising, contracts, co-production platforms, international sales and festivals strategy;
Individual consultations in scriptwriting, production and international distribution;
A pitch training, concluded with a public presentation of the projects.
Training staff is composed by seasoned international professionals – producers, screenwriters, directors, international distributors and sales agents – chosen from the experts and familiar consultants of Produire au Sud and from FIDADOC institutional and professional partners.
Follow-up & Networking
Given the current health situation which will prevent us from welcoming in Agadir, workshop's participants and mentors but also professional guests of the Festival, we will do our best to contribute to the visibility of the selected projects and to the networking of their authors among all our partners, colleagues and friends in the international documentary community.
Thanks to the support of the Arab Fund for Arts and Culture (AFAC), in the framework of the North Africa Cultural Program (NACP), we also plan to ensure regular and individualized monitoring of certain beneficiaries through individual consultations with our panel of mentors and experts.
Calendar and applications for the 2020 edition
This year, the call for entries is open to the following countries:
North-African countries: Morocco, Algeria, Tunisia, Libya, Egypt ;
West-African countries: Benin, Burkina, Cape Verde, Ivory Coast, Gambia, Ghana, Guinea, Guinea-Bissau, Liberia, Mali, Mauritania, Niger, Nigeria, Senegal, Sierra Leone and Togo.
We could also consider submissions from Central-Africa countries and Middle-East following our professional partners from those regions.
Opening of the call for entries: March 11, 2020
Closing date for the call for entries: May 18, 2020
Announcement of the selection: May 21, 2020
Applications online only through the 3 Continents Film Festival website:
Submit your application here:  > FORMULAIRE D'INSCRIPTION
Complete informations on the 3 Continents Film Festival website:

https://www.3continents.com/fr/produire-au-sud/pas-a-letranger/agadir-2020/
Contact for any questions:guillaume.mainguet@3continents.com